Go behind the scenes of the best hotel in Marrakech, Morocco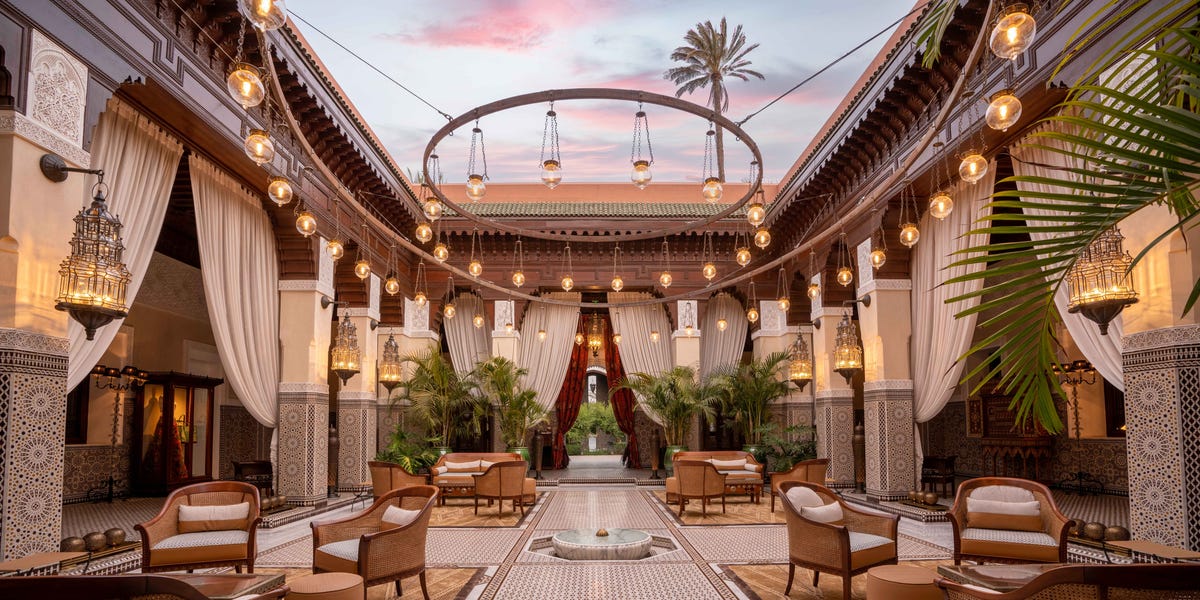 When my partner of Moroccan origin and I decided to go on vacation together in his country of origin, he volunteered to undertake the Fez leg of the trip if I organized our stay in Marrakech. Immediately, I was worried: How could I, an American, be able to arrange a relaxing and indulgent experience for a resident of Marrakech, a city I had only been to once? Turns out I had nothing to worry about. When we parked the long, shaded driveway of the Royal Mansour Hotel, we both felt the strain of air travel immediately leave our bodies. This was what the holidays were supposed to look like.
Owned by the King of Morocco himself, the five-star Royal Mansour hotel is, by far, the best hotel I have stayed in. For starters, there are no rooms, there are riads – each guest is given a three-story house to themselves, with multiple indoor and outdoor living areas, 1.5 bathrooms, and a master bedroom. the size of my apartment in New York. But it's on the roof that the real magic happens: a covered terrace is the perfect place to drink a Moroccan mint tea before taking a dip in the private rooftop pool.
Priced at around $1,000 to $1,500 per night, staying at the Royal Mansour is expensive enough to be a once-in-a-lifetime experience, and it is. Hotel caters to well-heeled travelers with a taste of Champagne and a champagne budget – look no further than his collaborations with Goyard and Christian Louboutin for proof.
ELLE.com sat down with General Manager Jean-Claude Messant, formerly of the beloved Hôtel de Crillon in Paris, to discuss the legendary property.
---
What made you decide to take on your role at the Royal Mansour?
Guess I moved here for the hotel. Would I have moved here to run another hotel? Probably not. I made a few requests. I came to visit, and the day I came, I saw these two doors, these two monumental doors, open for me. And I said to my wife, "It's me. This is my hotel. I didn't go inside, I was just outside – I just knew from the outside.
What feeling do you hope to evoke in guests when they first arrive here? What do you want them to think or feel?
For me, the direction of arrival is very important, and I would judge a hotel in a minute. When I walk into a hall, I know… I haven't been in the bedroom yet, but I know, I can feel, I can feel whether I'm going to like it or not. And so the arrival, the welcome, the smile, the hello, the set up, the design of the hall, the architecture of the hall, for me, it's very important.
What I love is coming to your hotel with "Wow". And I remember a few years ago, for the first time, I stayed at the Ritz in Paris, and I was out of my car standing outside the doors, and I was like, "Wow." And for me, that was more important than anything else. Usually when you check in you just want to go to your room. But when customers arrive at the Royal Mansour, they are very happy to wait a bit, to discover, to stroll, because [there are] so many things that we want to look at, to touch, with all the senses. Waters and music.
Over the past few years we have been dealing with COVID, which has had a huge impact on the travel industry. I'm curious how those years have been for you as a hotel and as a hotel manager.
We closed the hotel in March 2020, and the hotel was on top, in terms of business and quality. We expected an extraordinary 2020. We closed in two days; we managed to get everyone out safely. And I was lucky enough to be able to charter a plane for my last 50 guests. So very quickly I went into war mode: getting everyone from the staff out and in. More than 600 people left for Paris. So in two or three days we went from an extremely busy hotel with lots of action and excitement to nothing.
I stayed in Marrakech. And five days after staying home, I was bored. So I came back to the hotel, and then, little by little, we started to focus, first and foremost, on the staff. My concern was my people and staff and taking care of them and communicating. So I became a TV presenter, and God knows how many videos we did, but I wanted to be able to relate to them.
Then I started a YouTube series, Diary of a Confined Palace. We had a guest staying at our house nonstop, and one day she messaged me, and it was the diary of a confined guest. She told me what she had been up to that day and the night before, and I said, "Hey, that's a great idea. I'm going to do the same." And it worked very well.
This content is imported from YouTube. You may be able to find the same content in another format, or you may be able to find more information, on their website.
The hotel collaborates with luxury brands and organizes selections for the Royal Mansour boutique. I noticed the Goyard bag in particular, but the seller said it was sold out from the day it went on sale.
Yes, we only have one left in the safe.
In the safe?
In memory of Her Majesty. Goyard said, "We'll produce 50 for you," and we sold them for $5,000 each.
I like all the uniforms here too. They are so beautiful, of such high quality. Did you partner with a specific designer to make them? How did they arrive?
Well, all traditional Moroccan uniforms are made in Morocco by a fashion designer named Albert Oiknine. They need to feel good in their uniforms. It is the question of knowing: how to provide them with something that is practical, but easy to maintain, pleasant and feels good? You feel that you are happy to put it on.
Which guests are you most proud to have served?
What I am about to tell you may surprise you. It's not the rich and famous, it's those who came for a special occasion or it was, for them, the trip of a lifetime.
We had a wedding about four years ago, and a gentleman came in and said, "I would like to have a special wedding ceremony. I said, "Well, how many will you be?" "Just two of us." He said, "My fiancée is 61; I am 65 years old. We have been together for 30 years.
She was his PA; when he retired, he asked her to marry. He said, "I don't want to invite anyone, because I want it to be a very special time for me and my wife. And okay, there's no limit to what I'll spend on food and everything. But, he clarified, "I want her to feel very special, like she's a princess." And we actually spent quite a bit of money on entertainment, music, decor, and the way to the venue…yeah. That's why I do this job.